Re: Governance
Progressive Governance Academy: Equipping the Next Generation of Local and State Elected Leaders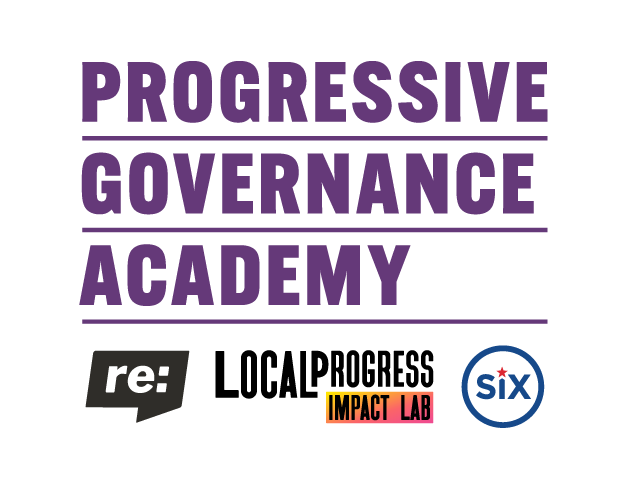 The Progressive Governance Academy (PGA) is a program that builds and develops the leadership and governance skills of local and state elected officials across the country. PGA is a collaborative effort by re:power Fund, State Innovation Exchange (SiX) and Local Progress Impact Lab that has trained more than 1,000 legislators since its launch in 2019.
In the past several years, thousands of people have become newly inspired to run for office—including many who are "firsts" in their legislative bodies and who are part of newly established governing majorities. The progressive movement builds power by helping these history-making candidates win elections—but then there isn't support for them once they're elected to wield that power for change in our communities. There are almost no resources to help them succeed in governing collaboratively and effectively, nor find the support they need while they do so, once they are in office.
That's where PGA comes in.
---
"As the federal government is increasingly distant from our communities, state and local elected officials need to know how to govern effectively to make the changes our communities elect and rely on us to make. This is especially true when you're a Senator from the minority party in your state like I am. There aren't many resources out there to help elected people learn the skills of governing. As a PGA trainer, I see the tremendous potential of the PGA every time I train and workshop with my peers. We need more governing resources like the PGA across the board."

Tennessee State Senator London Lamar
---
What the PGA offers
The PGA trains and supports legislators to build the human and political capital necessary to create bold change for their communities.
The impact PGA makes will have lasting effects not just on public policy, but also on the entire political ecosystem and all of the communities that are affected by it, by ensuring that values-aligned state and local elected officials have the resources, assets, tools, and skills that are needed to become powerful and effective leaders.
Our curriculum emphasizes an organizing approach to governance, including training on basic skills like power mapping, relational organizing, and coalition building. We also focus on models for collaborative and inclusive governance, working towards a new vision for progressives to access, grow, and wield governing power.
Our cohort of trainers are all former or current local and state elected officials. This ensures that the PGA is able to speak directly to the needs of our trainees and offers real-life examples of how to put training components in action to reach their goals.
Participants in the PGA receive access to:
Top-notch trainers who are themselves current or former state and local elected officials who intimately know the challenges of governing.
Relevant, participatory skills-building curriculum and workshops that get to the root of the challenges related to governing, while helping to empower and support legislators to be their most effective while in office.
Opportunities to cultivate deeper relationships with other like-minded state and local legislators for shared learning and peer support.
A chance to participate in in-person and virtual trainings that are accessible, dynamic, and customized
Membership in a cohort of practitioners who are invested in building progressive power in the long-term.
re:power Fund's PGA Anchor Partners
A registered 501(c)3 organization, the Local Progress Impact Lab brings together local leaders, partners, and experts to build the knowledge, skills, and leadership needed to advance racial and economic justice at the local level.
State Innovation Exchange (SiX) is a national resource and strategy center that collaborates with state legislators to improve people's lives through transformative public policy. SiX works in close coordination with legislators, advocacy groups, think tanks, and activists to provide the tools and information legislators need to be successful. We are committed to building progressive power at the state level by providing lasting and personalized support for state legislators. SiX supports legislators who are working to: strengthen our democracy, fight for working families, advance reproductive freedom, defend civil rights and liberties, and protect the environment.
Want to learn more? Questions?
Send us an email at PGA@repower.org.