Re: Governance
The Progressive Governance Academy (PGA) is a pilot project that builds and develops the leadership and governance skills of progressive state and local elected officials across the country.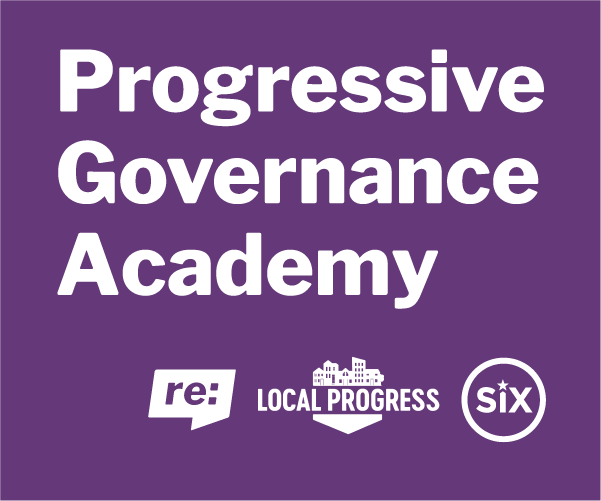 PGA is a collaborative venture from re:power Fund, State Innovation Exchange (SiX) and Local Progress and has trained nearly 1,000 legislators since its launch in 2019.
In the past several years, thousands of people have become newly inspired to run for office—including many who are "firsts" in their legislative bodies and who are part of newly established governing majorities. Donors spend substantial money helping these history-making candidates win elections—but almost nothing is spent on helping them succeed, learn, and grow once they are in office.
That's where PGA comes in.
The skills you need to win an election—fundraising, communications—are not the same skills you need to govern effectively. Once in office, it is necessary that our elected officials have a solid handle on policy analysis, constituent outreach, coalition management, and more.
What the PGA offers
The PGA is training legislators to build the human and political capital necessary to create bold change. The impact we make today will have lasting effects on public policy, electoral politics, and the entire political ecosystem in which we operate.
PGA exists to ensure that values-aligned state and local elected officials have the resources, assets, tools, and skills that are needed to become powerful and effective leaders.
Our curriculum emphasizes an organizing approach to governance, including training on basic skills like power mapping, relational organizing, and coalition building. We also focus significantly on models for collaborative and inclusive governance, working towards a new vision for progressives to hold and exercise governing power.
Our cohort of trainers are all former or current elected officials or adjacent to electeds as advisors. This ensures that the PGA is able to speak directly to the needs of our trainees and offers real-life examples of how to put training components in action to reach their goals.
Participants in the PGA receive access to:
A cohort of top-notch trainers exclusively comprised of state and local elected officials who intimately know the challenges of governing.
Relevant skill-building curriculum from shared expertise of three organizations that gets right to the root of the challenges related to governing, while helping to empower legislators to be their most effective while in office.
A plethora of opportunities for elected officials to develop the necessary skills and gain tools to succeed, learn and grow, while cultivating deeper relationships with other like-minded state and local legislators for shared learning
A chance to participate in real-time and online trainings that are accessible, dynamic, and customized
Membership in a cohort of practitioners who are invested in building progressive power in the long-term
PGA Anchor Partners
Local Progress is the network of progressive elected officials from cities and counties around the country who are committed to reclaiming the power that cities and counties have and to advancing our shared vision of shared economic prosperity, equal justice under law, livable and sustainable communities, and good government that serves the public interest.
State Innovation Exchange (SiX) is nearly 3,000 state legislators across all 50 states in advancing and defending progressive policies. They do this by providing training, research and policy support, leadership development, amplifying legislators' voices, and forging strategic alliances between our legislative network, advocates, and grassroots movements.
Want to learn more? Questions?
Send us an email at PGA@repower.org.