Overview
Welcome to re:power Fund's Grassroots Organizing School! This is an 18-week course built to provide BIPOC grassroots organizers with the training and support necessary to develop a baseline of relational organizing skills.
The curriculum, based on Professor Marshall Ganz's successful "Leadership, Organizing, and Action" program, is designed to take participants through a full campaign learning journey and includes sessions on public narrative as a leadership tool, building organizing relationships, creating interdependent leadership teams, developing campaign strategy, and taking action with your community.
Relational organizing is at the heart of Grassroots Organizing School's approach. At re:power Fund, we believe that movements must center base building in all their strategies and that engaging new people, developing their leadership capacity, and placing them in positions of real responsibility is essential to long-term success beyond any individual campaign. With that in mind, our entire curriculum is built to enhance our organizers' relational skills and their capacity to distribute responsibility and develop the leadership of others.
Course modules include:
Introduction to Organizing
Coaching as a Leadership Practice
Public Narrative: Stories of Self, Us, and Now
Relationship-Building
Building Interdependent Leadership Teams
Creating Shared Strategy
Tactics & Timeline
Mobilizing for Action
Who is the course for?
Ideal applicants come from all walks of life, from seasoned organizers and campaigners looking to sharpen their skills, to newer leaders who are passionate about organizing and want to bring rigor to their learning journey. Here are some attributes shared by all our applicants:
Organizing Insight: You don't need to be a professional politico, but we're looking for applicants with experience doing organizing work on the ground. That work can be tied to grassroots, electoral, and/or issue organizing. We seek to support organizers who are currently part of a campaign effort or are seeking to build one.
Relational & people-focused: Ideal participants are excited to build relationships, to invest in the leadership of others, and to build teams of purpose-driven leaders.
Dedication to Inclusive Politics and Intersectional solutions: At re:power, we center race, class, gender and sexuality across all our trainings—it's part of our practice of inclusive politics. We are looking for organizers who share our values and are seeking to build power in historically marginalized communities.
Course Structure
The course will launch with an in-person convening from August 4–6 in Minneapolis, MN. Starting on August 15 until December 5, we will meet every Tuesday virtually for a live session (either a lecture, or a smaller group section). Assignments will be due every Thursday, and will rotate between individual assignment and 3-person peer group assignments (SPAs). You can visualize the flow in the table below: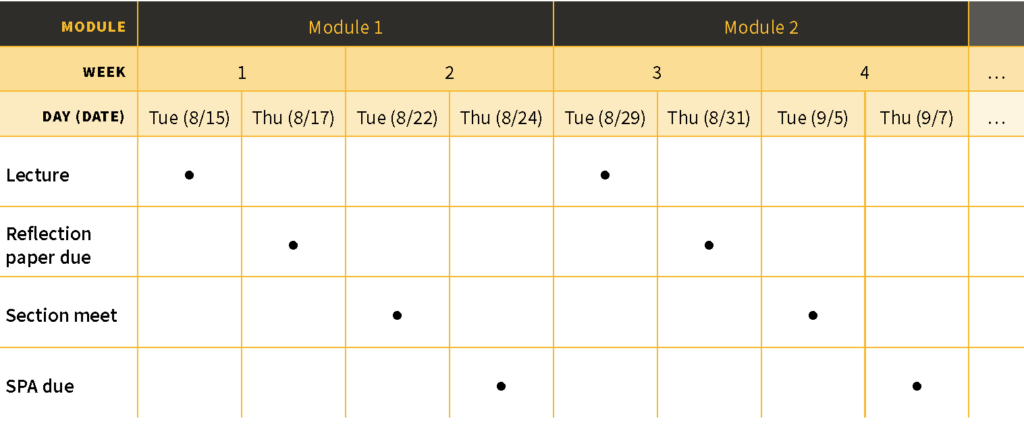 Expectations
This is an intensive, interactive course, with high expectations for participation.
During lectures & sections:
We ask participants to write in the chat box, share verbally, and participate in breakout group discussion.
Outside of class time, participants will be asked to:
Apply their learning to their work in real time,
Complete required readings,
Write biweekly reflection papers, and
Complete biweekly short group projects alongside a small group of other participants.
There are limited spaces available for participants in this course. If you feel you are not able to meet course expectations, we ask that you do not apply.
Make-up Policy
In case of a work or family emergency that cannot be rescheduled without putting jobs/health in jeopardy, participants may miss up to two scheduled sessions (lecture or sections). Make-up work will be required.
Information Sessions
If you want to learn more or wish to talk to one of our trainers about the program before applying, you can join us at one of the upcoming info sessions:
Tuesday, May 16, 2023 6:00 PM EST/ 5:00 PM CT/ 3:00 PM PST
Tuesday, May 30, 2023 6:00 PM EST/ 5:00 PM CT/ 3:00 PM PST
Tuesday, June 13, 2023 6:00 PM EST/ 5:00 PM CT/ 3:00 PM PST
Tuesday, June 27, 2023 6:00 PM EST/ 5:00 PM CT/ 3:00 PM PST