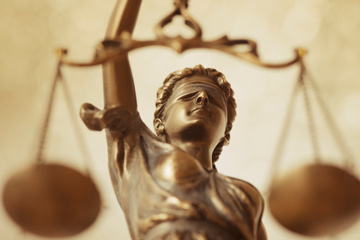 Yesterday, George Floyd's murderer was found guilty on all three charges. This verdict confirms what we already knew—that what the world witnessed last summer, as we watched a Black man slowly die at the hands of a White Minneapolis police officer, was murder. But let's be clear, this is not Justice. 
This guilty verdict is the bare minimum that America owes George Floyd, and this conviction is important. But, the reality is that Chauvin, the officer who murdered George Floyd, is the product of a larger system—a system of policing that was created from its inception to control and harm Black bodies. Chauvin's actions represent a system working exactly as it was designed. The conviction and sentencing will not bring George Floyd back to us.
Mere moments before the guilty verdict was delivered, Ma'Khia Bryant—a 15-year old Black girl—was shot four times by a police officer in Columbus, OH. She is now another victim of this state-sanctioned violence on Black and Brown bodies across the country. Black folks will be forced to listen to the justifications of this violence, but the reality is another Black person has been erased from existence. 
So what is Justice? Justice is about dismantling the system that allowed this atrocity, and the many others like it, to happen. Justice is reimagining and fundamentally transforming the system that continues to murder its own people. Justice is moving beyond holding an individual accountable to ensuring that the system that breeds and shields murderers is held accountable. Justice is a due process under the law, not a system where police decide to be judge, jury and executioner. It must be a re-envisioning of what it means to protect Black people and other people of color in this country. It must see Black people as those who are worthy of protection and investment, not as those the system is protecting itself against. Justice is bringing an end to the current system of policing in the United States as we know it.
We are proud of the case George Floyd's legal team assembled and grateful to all of the witnesses who shared their trauma on the stand to ensure this verdict, and to Attorney General Keith Ellison for filing these charges against an Officer. And we're left wondering, what is it going to take?
It's been almost one year since George Floyd was murdered, and in that time we have witnessed continued killings of Black and Brown people at the hands of the police. Breonna Taylor, Tony McDade, David McAtee, Rayshard Brooks, Andre Hill, Marvin David Scott III, Duante Wright, and Adam Toledo. What will it take to see these people as humans deserving of life? What will it take for the state to recognize that their system is flawed and must be changed?
What will it take for Justice to be served?
Take care of yourselves.